Track Listings:
Track 1 – So Beautiful
Track 2 – Enough Live (Toluwanimee, Onos)
Track 3 – Yahweh
Track 4 – God all by Yourself (live)
Track 5 – You are here
Track 6 – My God (Live)
Track 7 – Wow reprise
Tack 8 – Enough (Live)
Track 9 – Sounds from Heaven (Live)
 After my last live recording/album release (in October last year) I had no idea i would be releasing another body of work this soon, but God's ways are not ours,
neither his thoughts our thoughts but his plans are always good and More, so we constantly strive to follow and yield to them
Earlier this year I received a new song "Yahweh", and my team and i were more than excited to record such a blessing,
On the same day we recorded Enough Live with Minister Onos Ariyo and W.OW (Walking on water) Reprise version.
As the months went by, especially with my fortieth birthday in view it was impressed on me to gift listeners with a new body of work; and that's how the Journey to an EP began
With the unfolding of the sounds and message of the songs, I knew the name had to be prophetic and a statement of faith,
so many names dropped in my spirit but we settled on W.OW. meaning Walking on Water which serves as a reminder to listeners that our every day reality is the supernatural,
and incredible is the new normal
This EP is a compilation of 9 songs (all live recordings) and I am more than confident,
it would bless listeners and push them to higher levels of manifestation, indeed, to walk on water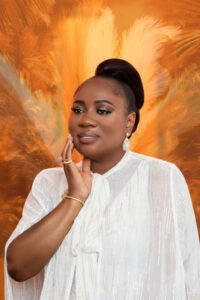 Toluwanimi Ibiso Eleoramo popularly know as Toluwanimee hails from the Niger Delta (Rivers State) She was born into a musical family in the early 1980's in the city of Port Harcourt.
She concluded her Tertiary Education with a degree in Biomedical Science, and a masters in Molecular Pathology and Genomics from Barts Cancer Institute London.
She is a Singer, Proflic Song writer and Recording Artist with songs like Mercy, Miracle God, lord today, My God and more.
In 2019 she was awarded the Female African Artiste of the year by [Gospel Touch Music Awards UK] Along Side with Mercy Chinwo In 2021 her Song Mercy was awarded 1st Runner music video of the year by Maranatha Awards USA.
She has two music Albums to her credit (Go deeper and Good and More) as well a self titled EP
Toluwanimee's ministry spans worldwide through the Uk, US, Turkey, Canada, and other African Countries , recently she runs a monthly worship event tagged "One Moment".
Toluwanimee is big on social impact, and partners with a number of NGO's and organizations to embark on charity projects; [June 2021]
Jabi clean up project powered by Kohath Investment Group, in conjunction with ACEP ( African Centre for Environmental Protection).
She is a Wife to her dear husband Mr Teniola Eleoramo and mother of four together they currently live in the United Kingdom.