DANSAKI – Kay Wonder ft. Pastor Samuel Foli
Nigerian spontaneous and energetic gospel singer  Kayode Solomon Eludiwura popularly known as Kay Wonder is out with the release of 'Dansaki' featuring daddy Samuel Foli
Yoruba-titled song Dansaki was born out of the spiritual and biblical understanding of worship.
Commenting on the song, He says Dansaki means to worship, the true nature of worship is in spirit- in the human soul from the heart-, and in the truth- the knowledge of the true definition the LORD has given in the scripture.
It is whole-hearted, whole-soul-loving worshipping God in the fullness of revelation that gives him all the glory He deserves.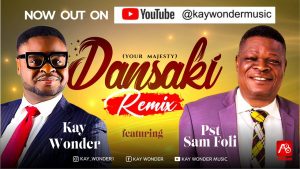 Download here
watch youtube